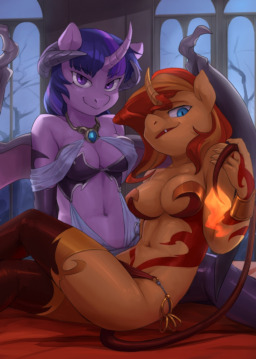 Source
There exists a desolate land where nothing survives for long on the surface. Life can only exist below the surface, where thousands of years ago, creatures known as procubi have created thriving civilizations. Those with horns lead those without; those with wings guard and fight for those without; those without either serve those with; and all are under the command of those with both.
Four matriarchs lead the Femescubi, creatures of beauty, grace, and machinations. One patriarch leads the Mascubi, creatures of strength, power, and wit. Conflict had driven the two apart long ago, yet they still convene together regularly before returning to their respective abodes. Past and present conflicts within each trouble the balance they've developed, threatening their way of life for better or for worse.
Image is by Audrarius on inkbunny.net. Sex tag for brief nudity and sensuous outfits.
Chapters (2)