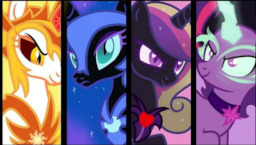 Equestria is a husk of what it was before.
Friendship never existed, the windigos took over the world completely.
All that remains are insane alicorns, gods, and monsters.
As the remaining ponies cower in fear and hide away from the constant battles, two alicorns clash once more only to experience something new.
Now, Midnight Sparkle and Nightmare Moon must work together to uncover what could have been. They start with the other alicorns.
C̷̨̦͖͙̭̤͙͕͊̾̅͗̅̄̓̔ͅe̸̤͉͉͔̲̟͕̒̇́͜ͅl̷̢̪͇̟̙͈͕͙̆͊̕e̵͖̝̲͈̒͐̕̚s̸̹̽t̷̢͍̖̭̙̄̆̂̆̓̚͝ỉ̴͉̎̈͑̚͝͠͝å̴̢̡̨̛͙̫̱̤͋͋̊̿̕͘Daybreaker. M̸̡̜̲̮̳̣͑̂̀͘í̸̢͈̙͆̑̓ ̶̛̳̣͓͂̀̈́́̚͠͝A̷̩̮̰͐̃̈́̔̇̓̈́̃͆͝ͅṃ̶̩̲̟̰̣͎̬͐̆̿ō̵͍̳̝̣̪͛̅r̶̡̖͈͕̜͇̤͙̠̾͋̄̑̆̅͗͘ȅ̶̝̜̘̙ ̷͙̠͂̔̔̏̂̒̑̍̀Ĉ̷̛̛̘̼͉̅̓̒͐̓̈͝a̷͈̟̦͑̄̇͐̔̎͋d̸̥̳͓̖̠͍͔̗͑e̶̻̬͈̳̺͈̳̖̣̣̓͋͑n̸̢̩̹̳̲̖̦̲͂̓́̉̑͜͝ͅz̶̢̤͈͔͙̪͚̜͐̑̏̊̚a̵̝͓̱̖̞͕̰̓̓͆͠Heartbreaker.
It wouldn't be easy. They didn't care.
---
An experimental AU. Set to be less than 20k words, and uploads will be as I write the chapters.
Romance will come in later chapters. You have been warned.
Chapters (9)