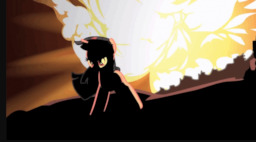 Source
After Celestia dismissed her warnings about Nightmare Moon, Twilight Sparkle decides to take matters into her own hooves. She finds a spell to be able to travel to the moon so that she can save Equestria.
She then also decides that blowing up Nightmare Moon is the best way to go. Way to go, Twilight!
---
Set during Season One. Not to be taken seriously.
If you want to chat to me, we have a discord server here!
Chapters (1)