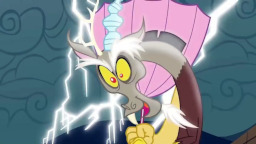 This story is a sequel to Twilight Causes the Demise of King Sombra
---
Discord has finally escaped his stone prison a year after Celestia and Luna thought he would. Explaining why, he gives an ultimatum to Celestia, Twilight and her friends.
But he offers a proposition. One that will either see him reformed or as the ruler of a Equestria dissolved into chaos. A very....explosive proposition.
---
This story is meant as a joke. Not to be taken seriously.
Context from prequels is not needed, although it would be more enjoyable if you read the previous three.
If you want to chat to me, we have a discord server here!
Chapters (1)