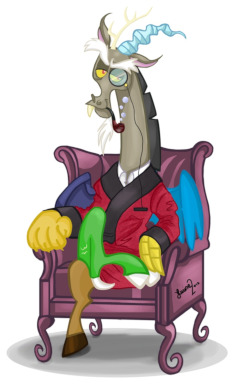 Discord had been doing very well in recent times when it came to not doing evil. Not that Discord was evil, of course; he was just looking to have some fun. But anyway, Princess Celestia decided that he needed to become a productive member of Equestrian society, rather than living however he wanted. And so, the Almighty Discord, Lord of Equestria, Spirit of Chaos... was ordered to find a job. Ugh, gag!
---
This story was inspired by a dream I had once, as my sister will be extremely eager to explain to you for some reason, even though it was my dream and not hers.

Each chapter will be a new job, and suggestions for new chapters would be greatly appreciated.
Also, if any of you have read Princess Stupid Jerk McButt by Twinkletail, you know exactly what inspired this story's writing style. And if you have not read it, I highly suggest it. Unless you hate Trixie's ego like my sister does. In which case, read the Lunaverse stories instead!
Why Trixie get no love?

---
Nov. 15, 2014- I got featured?!?!
I can't even words.

Sep. 24, 2014- This story finally got its first dislike! How dare they?!

Jk, but this is good. It means I must have room to improve. From now on, any dislikes are encouraged to be accompanied by a review, critique, or suggestion. If you didn't like it, please help me make it better. And please be brutal and specific (especially specific).

Chapters (5)