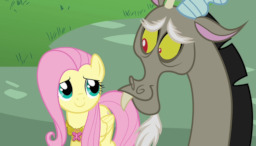 Hearts and Hooves day is coming up and Discord has decided to take Fluttershy's advice to start doing something good for ponies. So he decides to pair each pony from the main 6 up with somepony, but when it comes Fluttershy, things get a bit difficult.
This can only end well.
Edit: I'm sorry, but I unpublished and am currently re-writing the 3rd chapter. It just didn't feel right. It came out too blunt, boring and just confusing.
Chapters (3)