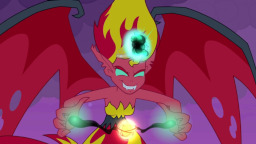 This story is a sequel to Twilight Discovers Nuclear Explosions
---
Twilight is staying in the Crystal Empire, when a hooded pony comes into her room and steals her crown.
Celestia reveals that it is her old student, Sunset Shimmer. Twilight immediately goes after the thief.
What happens next involves chemicals and a lot of science.
---
Set in: "MLP: Equestria Girls". Not to be taken seriously.
An entry in the Sci-Fi contest
Chapters (1)