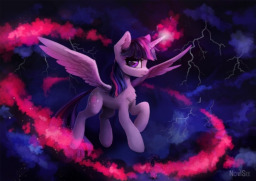 Source
This story is a sequel to Twilight Discovers Nuclear Explosions
---
Grogar has returned to take his rightful place as King once more, along with the other villains. No, he's not Discord. Also, Starlight was there.
However, Twilight gets informed by Discord and decides to make this the greatest explosion ever, even if it gets her the largest reconstruction bill she'll ever need to pay.
---
Set in "The Ending of the End, Part Two". Not to be taken seriously.
This is the final in the series. Thank you all for your continuous support!
If you want to chat to me, we have a discord server here!
Chapters (1)