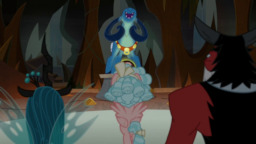 Source
Spoilers for Season 9's "The Beginning of the End".
Though if you're seeing this you're already past the spoilers, so why am I even making this?
---
Grogar and the other members of his league of evil are searching for more villains to join the ranks of their organization. Of course they're doing this in the evillest way known to ponykind: a casting show.
Let's see what types of creatures will try to win a spot among Grogar's ranks!
Chapters (2)