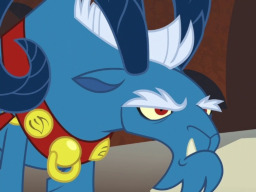 In the distant past, Grogar created thousands upon thousands of monsters and set them loose to ravage the Equestrian countryside, sowing fear and terror in their wake. It was a magnificent time of anarchy like none seen before or since. When he was driven underground, Grogar could no longer control them, but what of it? As he bided his time, consolidated his power, the monsters were still loose, doing exactly what he made them to do.
Except, much to his chagrin, some monsters were reformed. This includes a certain draconequus.
And said draconequus is so happy to see his dad again.
Chapters (1)