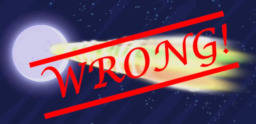 An Epic Exposé by Buck Haysing
Lies! Lies! Celestia has been feeding you a delicious smoothie of lies!
Luna never went to the moon! It was all a ploy between her and Celestia! They were trying to safeguard Equestria through a convoluted plan that involved no direct action on their part! It's all so simple!
Buck Haysing, a manual writer for Thaumodyne, destroys lies, falsehoods, and personal space in his quest to expose the conspiracy. The smallest facts are dissected, analyzed, and twisted until they reveal the truth. Nothing escapes his notice, nothing is meaningless, and nothing is a coincidence. Wake up, sheeple! Wake up, sheeple!
(No apologies to actual sheep. If they didn't want to be called sheep, they shouldn't have been sheep.)
---
"Number one on my reading list!" —Drocsid
"I have no words." —Princess Luna
"A most enlightening read… A fascinating glimpse into the minds of certain ponies…" —Sunbutt
"Nothing… is… fabricated… or… ignored… Exposes… vile… lies…" —Princess Twilight Sparkle
---
Written in honor of the 50th anniversary of Apollo 11. I hope you know how this honors Apollo 11, because I don't.
Chapters (5)