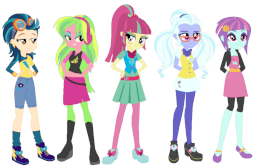 Source
As it turns out, the Shadowbolts all have the same secret. They each have a huge crush on CHS' star student, Sunset Shimmer. Watch the struggle as these highly competitive girls each try to win Sunset's heart. Who will win?
---
Inspired by and written for Oroboro's Sunset Shipping Contest: Changing Seasons.
That's why you don't make me have ideas!
Edit: 10/8/17 Three hours and already "Popular Stories", you're great!
Edit: 10/8/17 Featured! (When Mature turned off; that still counts, right?)
Chapters (1)