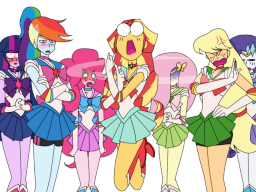 Source
Sunset has been keeping a huge secret from her friends. Some time ago she got her magic powers back and since then used it to fight evil under the guise of a magical girl. Now she has finally decided to reveal this secret to her friends, though their reaction is not what she expected. As it turns out she's not the only magical girl.
---
Sailor Moon is not part of this crossover. Ironic, I know. But I just had to use this coverart, when I found it.
---
My entry for the [ポニー]: Anime Crossovers Contest (if this madness even gets accepted)
Edit: 30/9/17 Popular stories. YAY!
Chapters (1)