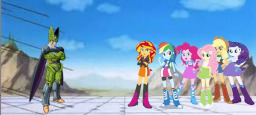 In the days leading up to the Cell Games, Cell faces off against his latest challenger(s). DBZA-verse.
The following is a non-profit fan-based parody.
Dragon Ball, Dragon Ball Z, Dragon Ball GT, and Dragon Ball Super are all owned by Funimation, Toei Animation, Shueisha, and Akira Toriyama.
My Little Pony, and My Little Pony: Friendship is Magic are owned by Hasbro, Studio B, Bonnie Zachary, and developed for television by Lauren Faust.
Please support the official release.
Featured on 08/05/2017
Chapters (11)