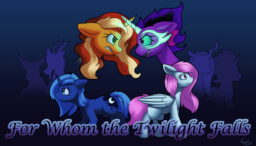 From birth, Luna was a gifted unicorn.
So gifted, in fact, that Princess Sunset, the Solar Diarch, personally took notice of her abilities when she applied to attend Princess Sunset's school for the Gifted and Talented. When her pegasus sister, Celestia, hatches a phoenix egg, their entire life is changed.
Now, as Princess Sunset's personal students, the two sisters must figure out why sources of knowledge are disappearing, being stolen, or forcibly taken by dark shadows. Could the weird behaviours of the changelings explain the reason?
The one thing they do know is that something dark and powerful is plotting something in the shadows. And only they can stop this evil.
And why does Princess Sunset insist that the situation is nothing to worry about?
---
Cowritten by Meowofy and iAmSiNnEr
The story is a roleswap AU, we hope you enjoy!
Cover art commissioned, drawn by Cyonix, link to his Deviantart here.
For clarification: Luna and Celestia are not princesses in this story, even if tagged as such. There is just simply no non-princess Luna and Celestia to be tagged.
Chapters (15)