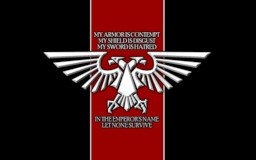 Accessing Files... Accessing...
File Found.
Name: Anton Ilario
Troop Number: #35863756-878
Location of Birth: Elysia Secundus, Elysia Prime
Date of Birth: 2.456.922.M41
Unit: 158th Elysian Drop Troopers
Rank: Trooper (Field Chirurgeon)
Previous Campaign: N/A
Current Campaign: Second Offensive against House Lysimicus forces on Veyland Sinestre.
Status: MIA (Believed KIA)
Leaving File...
Imperial Thought of the Day: Suffer Not the Alien to Live.
Chapters (43)