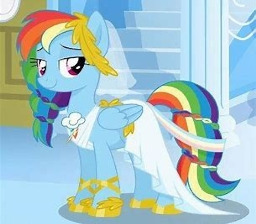 Rarity, following a somewhat rocky introduction, has become a rather welcome member of the upper classes of Canterlot. Living the dream, she eagerly accepts an invitation to an Opera in Canterlot with her new friends Viscount Fancy Pants and his wife Fleur de Lis. Especially since it means meeting a mysterious and somewhat reclusive Baroness that will also be attending.
Naturally, things grow somewhat awkward when she runs into one of her friends... and definitely not in any way she thought she might.
(Note: This is based on a head-cannon I had circa season four. We hadn't met Rainbow's parents yet, and we didn't really know all that much about many of the Mane 6's home lives. I know this isn't canon now, but I just wanted to put this on paper. Quarantine, man.)
Cover image: https://www.pinterest.com/mdhsoccer/
Prereading: Mosanted
Edit: Holy ****. I did not expect this to blow up like this. Thank you all so much!
Chapters (2)