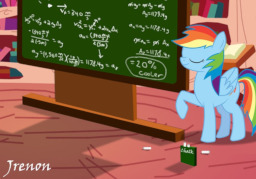 Source
Twilight's in a bit of a pickle. On one hand, two years of marriage with Rainbow Dash have been absolutely wonderful. On the other, well... two years of marriage have passed without a single thing happening in the bedroom.
Why? Well, that's one mystery even she can't seem to solve.
Then Scootaloo comes home from school and asks Rainbow a question that makes everything crystal clear.
Rainbow has no idea what she's talking about.
Chapters (1)