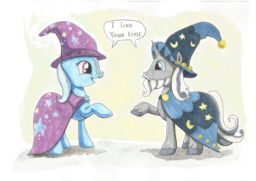 Source
All Twilight Sparkle wanted was a nice teatime with Starswirl, her idol. And then Trixie Lulamoon had to show up, cast a spell, and rip yet another hole in space-time.
This is becoming distressingly common...
---
Part of the Anarchyverse.
Now has a reading by the Poniverse channel. Super-special thanks for doing me such a kindness!
Now has a Russian translation by GrandCat!
Chapters (1)