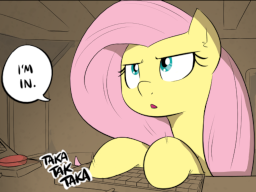 Source
Fluttershy and friends gain access to this website, but quickly find themselves trapped within a paradoxical situation.
Check out the comic where the cover art comes from!
Posted with approval from the staff.
Update 3/19/2021: A couple days after publishing this story, and after Fluttershy injected a hacking payload into the mainframe utilizing a quantum subspace frequency modulation algorithm, we were able to access hidden meta-data for this data endpoint and successfully remove ourselves from the causality loop. I am writing this message to preserve our efforts before we sever the connection, in the off chance that something like this ever happens again. With Love and Friendship, Twilight Sparkle.
Chapters (1)