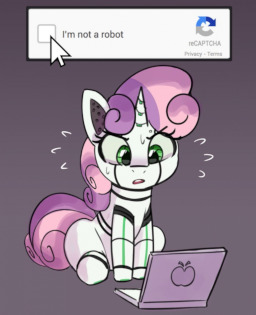 Source
Technology has come to Ponyville, and with it all kinds of complications. The School of Friendship in particular has too many students using AI to cheat on their homework. Not to worry, though. A simple, no-exemptions ban on electronics will solve the problem for everyone.
Everyone except the robot employed in the tutoring lounge.
---
This is an entry in the Snippet Series, an anthology of old oneshots that I (and my good buddy Str8aura) wrote based around interesting pics I found. New ones will be posted every Thursday for the foreseeable future.
Chapters (1)