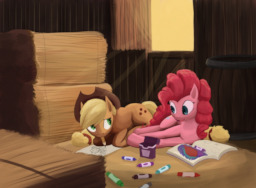 Source
Fierce foalhood bullying taught Applejack to keep a certain hobby of hers to herself. Years of holding it in has made her a bit skittish, but like every pony with a secret, it was only matter of time until she got caught.
Tight, dreamlike character vignette striving to capture the mood of the source pic. Pinkie was certainly a tough pony to portray in way that felt "right," but those characters tend to be the most rewarding when things finally click.
---
This is an entry in the Snippet Series, an anthology of old oneshots that I (and my good buddy Str8aura) wrote based around interesting pics I found. New ones will be posted every Thursday for the foreseeable future.
Chapters (1)