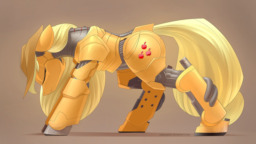 Source
Equestria's history is full of wonders, both magical and mechanical. But only twice has it succeeded in implementing AI.
The latest iteration is an apple farmer whose resurrection is celebrated by everypony except herself. Because really, once every part has been replaced, what is left that can measure a mare?
---
An entry for the 2023 Sci-Fi Contest, where it nabbed a respectable fourth place. Yay, existential robot ponies!
Chapters (3)