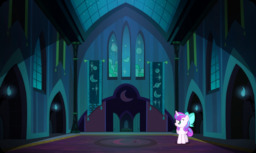 Source
As a budding diplomat, Flurry Heart often travels out of Equestria and into other dimensions. It's not uncommon for her to get stalled in the Between Place, but something is different this time. Someone else is here.
Tagged as "Mystery" because even though the audience knows Sunset Shimmer, Flurry sure as Tartarus doesn't.
Cover art vectors sourced from the Gameloft app and Aleximusprime on Deviantart. The image used in the fic's body text is sourced from Chelseaz123 on Deviantart.
---
This is an entry in the Snippet Series, an anthology of old oneshots that I (and my good buddy Str8aura) wrote based around interesting pics I found. New ones will be posted every other Thursday for the foreseeable future.
Chapters (1)