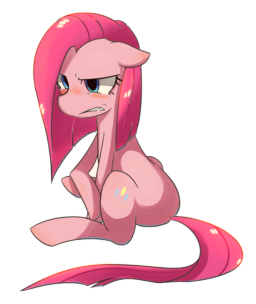 Source
Pinkamena just wants to stay in her own lane. If Pinkie has a problem that needs yelled at, kicked at, or jeeringly tolerated until it goes away, she can handle it. But what's a sourfaced split personality to do when her agreeable half vanishes overnight like a fart in the wind?
Pinkamena is not a sleuth. Nor a convincing actress. But she'll need to be both to guise as Pinkie and solve the mystery of where her better half went.
What a pain in the flank.
(Teen rating for Pinkamena's crassness and comically short temper.)
New chapters will be posted every Thursday
---
Its National Novel Writing Month! I'm breaking my regular short story conventions for a multi-chapter tale of fumbling comedy, uneasy mystery, and (most frightful of all) first-person narration.
Chapters (4)