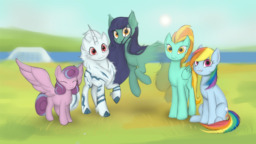 Source
After a year of (admittedly sporadic) Thursday installments, the five protagonists of the Snippet Series finally stop living their lives in parallel and meet up at a Wonderbolt expo to share in some closure.
This story was a long time coming, and it concludes the storylines most enjoyed by the readers as well as ones most enjoyed by myself.
Befitting an end-of-the year event, I now present four cohesive Snippets for the price of one. I hope they please all of you who've enjoyed the first phase of this ongoing anthology. And for those of you just joining, with this installment you can now read the entire anthology from start to finish.
---
As stated above, this is the season one wrap-up entry of the Snippet Series, an anthology of old oneshots that I (and my good buddy Str8aura) wrote based around interesting pics I found. Season two will continue with new entries posted every other Thursday in 2021.
Chapters (4)