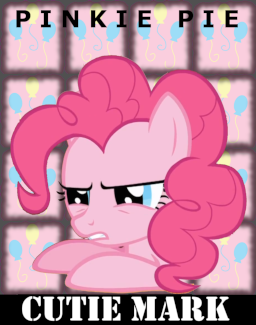 Pinkie Pie wakes up with a hangover after having too much cider only to find that her cutie mark has been stolen! What's more, it seems that a mystery pony is holding it for ransom for forty cakes. Forty cakes! That's four tens and that's terrible. Desperate for revenge, Pinke has a plan to turn the ransom around on the thief.
This occurs in the same universe as my story Substitute Harmony; reading that is not necessary, but these characters have been through those events; I've taken steps to avoid outright spoiling of that one though. Like Substitute Harmony, it was edited by Florentine.
This is also a very loose parody of the 1996 Mel Gibson movie "Ransom" (and thus of the movie that was based on). And that's terrible.
It's marked as teen because there are adult things strongly hinted at in comedic fashion, but nothing worth checking the sex box for.
This occurs after season 2 episode 15 (The Super Speedy Cider Squeezy 6000), while Cider season is still occuring.
Features Blinkie and Inkie, for which there are no checkboxes. Cover image by me; I'm no artist.
EDIT: They have boxes for them now!... but I got their personalities completely wrong. ... Okay Blinkie's isn't THAT far off from Limestone, But Inkie/Marble is a complete miss. Strangely, my Inkie/Marble acts like Maud, who didn't exist at the time of writing this.
Chapters (1)