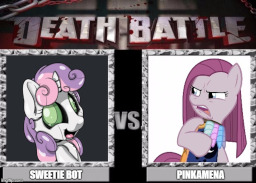 Pinkie invites Sweetie Belle over for some fun.
Little does Sweetie suspect that Pinkie has a different kind of fun in mind
... little does Pinkie suspect that this might be harder than she assumed.
Yes, this is a cross-over based on Sergeant Sprinkle's infamous fanfic "Cupcakes" and "Friendship is Witchcraft"'s Sweetie Bot. Expect stupid jokes that only programmers will get.
Rated teen for naughty things being referred to non-explicitly. This is just to be safe. It does not contain any blood or real sexy-time.
Cover art images used with permission.
Sweetie Bot image by Bobdude. See their Tumblr here .
Pinkamena image by ZuTheSkunk. See their deviantart here.
Background from Death Battle.
Chapters (1)