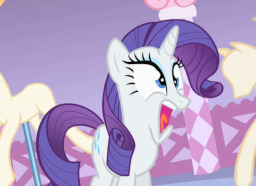 When Sweetie Belle overhears Rarity asking Twilight Sparkle if she wants to scissor that night, her curiosity is piqued. Why is "scissoring" such a hot topic among the mares? Why does it sound so fun? What exactly is scissoring, anyway? Sweetie goes forth on a quest to discover the secret.
This story does not contain foalcon, implied or otherwise.
Reading by Visualpony Thenarrator!
Chapters (1)