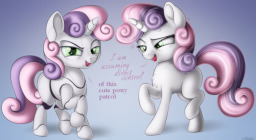 Source
Sweetie Belle has the grand idea. Silver Spoon has the cash to make it happen. And Rarity has both the spare storeroom and goodwilled ignorance to give two troublemakers the space they need to add an artificial addition to their rambunctious ranks.
Very very lean oneshot that is my first foray into pure comedy. It's also more of an opening scene for a longer story than the self-sustained vignettes I usually write. Consider it a filler upload while work continues on It Takes A Princess.
---
This is an entry in the Snippet Series, an anthology of old oneshots that I (and my good buddy Str8aura) wrote based around interesting pics I found. New ones will be posted every Thursday for the foreseeable future.
Chapters (1)