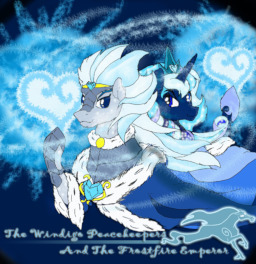 "No, uh, that's my name. I've got better pickup lines." - Warm Hug, the Crystal Pony/Windigo -
Windigos, the frost spirits of Hearthswarming legends fame, are Equestria's secret peacekeepers tasked with preventing war at all costs, freezing any who dare threaten peace and harmony. Crystal Ponies, on the other hoof, are peacekeepers tasked with spreading Hope and Love through the Crystal Heart. They are one and the same, two sides of the same coin - Windigos in war time, Crystal Ponies in peace time. 'Frostfires', Starswirl once called them - ponies who grow cold in hate, who become warm in Love. With Equestria finally at peace Windigos are few and far between. It had been centuries since the Crystal Empire was last led by a Frostfire Emperor.
Warm Hug is a young blank flank crystal pony, seemingly incapable of the happiness and love required of his kind. Shunned by his kinsman, he spent years wandering. That was until Tirek's invasion of Canterlot forged an unexpected friendship between him and the unlikeliest band of friends.
But their friendship would be sorely tested when an apocalyptic snowstorm strikes all of Equestria and freezes the entire surface world. With Princess Celestia and Princess Cadence frozen solid and Warm Hug accused of high treason, will their Fire of Friendship light the way or will they fall prey to the frost consuming their world? With the world once again in turmoil, never have the Windigo peacekeepers been more loathed yet needed.
WARNING: Season 4 Finale Spoilers.
---
Now has a prequel - A First Hearthswarming's Tale - the story of Clover the Clever and the Windigo.
Written to the sound of pretty much the entirety of Socratic Brony's Upload List. This guy's music is simply amazing.
Cover Art: Did you know that crystal ponies are difficult to colour? Neither did I. Now I do. All them sparkles. So many sparkles.
Chapters (2)