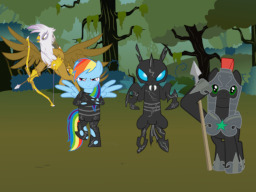 *This is a sequel to my earlier story, The Winds of Change. The prequel's not as well written in the beginning, but at least give it a chance. Look at the rating if you're unsure.*
As the griffin war continues, Dash and Jason are thrust back into a conflict they aren't too keen on continuing. But with the griffin threats and the re-emergence of coveted soul magic looming on the horizon, will they be able to revitalize the war effort and win the war with the same efficiency and skill as in the liberation of Canterlot? With Team Green Bean together again and the aid of new allies, this almost seems like a task they can pull off. That is, if things go to plan.
The more I write this, the more I think that I went a little too far. Coming up with more ideas is going to be tough.
If you didn't like the prequel, this is waaaaay better. Just look at the rating. You should probably still read the prequel however, because this story makes absolutely no sense without it. This one's well written from the beginning though, so people should have much less of a beef with it. The prequel only got good about a quarter of the way through, before I improved at writing.
Characters involved are pretty subjective to change.
Side story concerning Scoots in Ponyville to be found here.
Art (more than just the cover) by Shadow Bolt
Chapters (60)