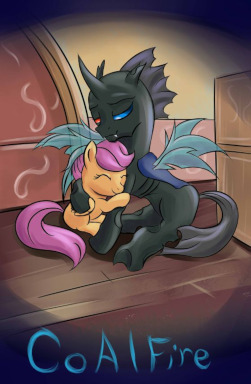 Source
Echo is a high ranking changeling officer. The Canterlot invasion was going perfectly, and her battalion had personally defeated the Elements of Harmony. Suddenly, she finds herself far flung from Canterlot, crashing into the Everfree forest. Now she is faced with a difficult reality - her hive, the only family she's ever known, no longer exists, and she must adapt to life as a pony. What she finds out about herself, though, will surprise her.
Rated Teen for occasional suggestiveness and language, tagged gore for brief violence, particularly in later chapters.
Dark because later chapters get pretty ... well, dark.
---
Addendum 5/29/2018
This story is now, as of this addendum, five years old. It is getting more attention as I put out new chapters on the sequel.
I recognize that this story has problems, and that some of them by their nature carry over to the sequel; please remember that when I started writing this, I was not yet even old enough to legally drink in the US. A lot has happened and a lot has changed, and there are many things about this story I regret including, but which it is now too late to change. Some of those things I have simply done my best to ignore and make irrelevant, but some of them are errors from a 19 year old me that will haunt me until the sequel is finished.
In short, please be gentle.
Chapters (11)