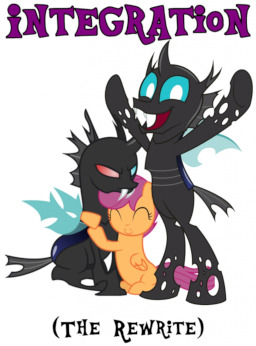 Source
This story is a sequel to Adaptation - A Changeling's Story
---
*Cover art is made from two separate pieces, neither of which did I create. I linked to one, the other is an old piece I had requested from Ficisism on Deviantart, but the account is deactivated.
(( NOTE 4/20/2019 -- Integration is on an indefinite hiatus. My apologies. ))
It's been almost three years since Echo officially came out of hiding, adopted her daughter, and began the arduous task of becoming part of what was, to her, an alien culture. She's managed to secure financial stability, but now she struggles with things that are altogether foreign to her.
What does it mean to have friends? She knows it's a good thing, she knows it keeps her alive, but it seems like there's a measure of responsibility to it. More importantly, how can she be a good mother to her daughter if she doesn't understand something so fundamental to ponies as friendship?
Moving back to Ponyville presents its own challenges though, as she finds an unexpected surprise waiting for her.
Seeking respite, she turns to help in Canterlot, only to find that there is an even greater menace there, waiting to ruin her peaceful existence.
She really can't seem to get a break.
(2/27/17: Due to alternate changeling continuity, AU tag has been added)
(4/12/17: I have received more than a few messages requesting the dark tag. It has now been added.)
Chapters (20)