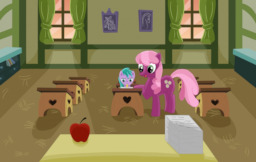 Source
"A good teacher is like a candle— It consumes itself to light the way for others."
Fresh out of college and ready to tackle her career with all of her might, Cheerilee is what some ponies would call perfect for teaching in Ponyville's schoolhouse. It's her first day on the job, and she's ready to start doing her part to help the town's foals grow to be happy, healthy adults.
Of course, there are some things that college simply can't teach. When one of her pupils begins to show signs of trouble, Cheerilee will be forced to learn a very important lesson.
Teaching is about a lot more than writing on a chalkboard.
---
Concept gifted to me by my good friend, Blue Flame
Concept Development, Prereading, and other assistance by KillerShadow 15
Edited by
Lord-Commander (Chapters 1-11)
Xhoral1865 (Chapter 12)
Kestrel (Chapters 12- )
MissytheAngle (Chapters 13- )
Cover art commissioned from Sayer09
Thanks go out to everyone else who has helped me along the way, and to you readers for taking the time to read my writings. Enjoy the story!
Featured on Equestria Daily! 9/30/2015
Chapters (15)