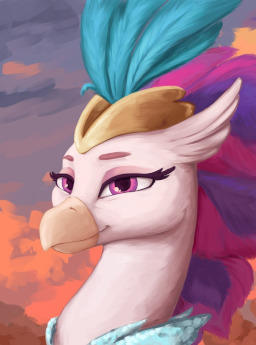 The Kingdom of Hippogriffia, united under the royal line of Novo, was long the shining beacon of prosperity and progress. It was a land that lived in harmony with itself, where troubles were something that happened far away and abroad, but not there. A land where its monarchs ruled absolute - firm but fair, with many wise Kings and Queens coming to pass.
But those were days that now seemed long passed. The Storm King's invasion had forced upon Queen Novo a cowardly retreat, one that would forever embarass her as the sovereign of her subjects. It was a time where she, meant to be the bravest, wisest, most capable among both races, seemed the most undecided and incapable. It was the start of something greater. A time where the cracks began to show.
Now, years later, that story has only continued, running its predictable course. Hippogriffs and seaponies alike are fed up with a Queen who was a coward. A Queen that was incapable in times of true distress, but always active and resolute on matters that seemed artificial. They were tired and angry at a Queen that did nothing to adopt to a changing world.
And now, they were banging at the gates. Now, they would force the issue. Whether it be them or the Queen - something or someone had to give way.
Long live the Queen.
Chapters (1)