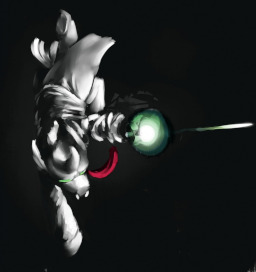 NOTE: THE STORY IS CURRENTLY UNDERGOING HEAVY CHANGES. ONCE COMPLETED, NEW CHAPTERS WILL SUPPLANT OLD ONES. ONCE THE NEW CHAPTERS ARE UP, OLD CHAPTERS WILL BE MOVED OVER TO THE STORY "PONY NOIR: WHERE IT ALL STARTED" FOR FUTURE POTENTIAL READING.
UNTIL THEN, ENJOY THE STORY CURRENTLY WRITTEN WHILE THE NEW REDUX TAKES SHAPE.
---
While investigating a string of violent crimes in Canterlot, detective Gro'gar—a pony of sordid past and uncertain future—stumbles upon a conspiracy that reveals one of the nation's oldest evils is raising once again.
Now, together with a young Shining Armor and a former cultist filly much like himself, he'll have to uncover the terrible truth before the shadowy cabal makes its next deadly move in their bid for control. What he uncovers—and the battles he subsequently wages—will test his resolve, integrity, and very nature. After all, monsters are not born. Monsters are made. Not even Gro'gar is safe from this fate
Cover graciously provided by TapeDiggity. Go check out his work ASAP.
Many thanks to my editor (at least until he decides he's had enough of my work) Prak
Chapters (6)