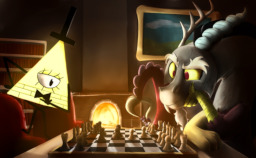 Source
SPOILERS for Gravity Falls' season 2 & series finale (Seriously, GF is best gone into blind!). Set during MLP:FIM Season 6 after "The Crystalling". You have been warned!
This cover art is not mine. It's a placeholder until I can make my own. Found it through google. It belongs to Pony Stark. Go check out their other artwork too.
One year after Weirdmageddon, the Pines reunite in Gravity Falls for another summer of adventure. A fall into Equestria wasn't what they had in mind though, or being turned into colorful ponies...
Twilight and friends seek to help the lost travelers return home, but meanwhile, a new danger sets its sights on Equestria, and revenge.
MLP / Gravity Falls Crossover
Big Thanks to MyOwnNameWasTaken for being my Beta Reader. Go check out his stories, too!

Author's Note: So after the epic Gravity Falls finale that was Weirdmageddon, and the welcome surprise of MLP's season 6 starting, I got inspired to write this. Hope you like it! Also, to those wondering about Daring Do and the Order of the Eagle, yes, I do plan on continuing it and fixing those first chapters. But I currently have writer's block for it, unfortunately, as well as other projects, so that might take a little while.

P.S. To those readers who feel the need to give me "thumbs down" votes: I would really appreciate it if you would please leave a comment telling me why you down-voted. I can't improve my writing if I don't know what I'm doing wrong. Thank you.

Obligatory Disclaimer: I do not own Gravity Falls or My Little Pony: Friendship is Magic. Gravity Falls is owned by Disney. Everybody here already knows who MLP is owned by.
Chapters (11)