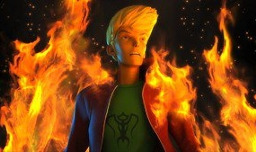 A teen goes to a convention with some friends. Dressed in casual wear and walking around, he notices a small pink gem that looks oddly familiar... After buying it from the Merchant he blacks out, waking up in a strange location with blonde hair, orange skin, and a seriously bad case of dragon breath.
I got this idea while watching an old favorite of mine from Cartoon Network called 'Firebreather'. It's about the son of Kaiju King Beloc, Duncan Rosenblatt. Look it up or wait for the story to progress if you're not sure what kinda stuff he can do.
Planning to tie this in with my other Displaced story Promising Shadows.
Tags and such will be added as the story progresses.
Chapters (4)