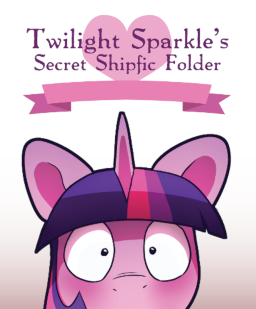 A comment driven story based on the card game, Twilight Sparkle's Secret Shipfic Folder, by Horrible People Games.
Rated T for Teen. Tags are due to the ridiculous and outlandish nature of some cards, but any sex mentioned will not be graphically detailed, and said scenes will "fade to black" before things get going. Cards shown in the Author's Notes at the end of each chapter are SFW, but some of them are very silly!
Cover art is mostly mine and based on the card box. Twilight's head was drawn by the artist of the cards, Pixal Prism. Be sure to check out their other artwork too.
---
Twilight Sparkle has written a treasure trove of relationship fiction over the years, shipping everyone and anyone, no matter their relationship to each other, partner preference, or coat and mane colors. No one is safe from her typewritten whims! If anyone ever discovered it, her work would no doubt become famous--or infamous. Now, in a moment of genius--or madness--she has decided to create a masterpiece, the greatest shipfic in the entire history of shipfics!
Will she pull it off? What wild and wacky shenanigans will ensue? What untold relationship horrors will Twilight create this time? You, the reader, get to help decide!
---
At the end of each chapter, the readers will be offered "Goal cards", "Pony cards", and "Ship cards". Choose from among the pony and ship cards to advance the story. Earning a goal card by steering the story into a certain outcome gives a number of points. When 11 points are reached, or the "finale" ship card is chosen (whichever comes first), the story will end. Only the core game deck will be used for this story, but if it gets popular enough, I'll throw in the expansions in a sequel. All of the cards in the decks were shuffled beforehand. I have no idea what's going to happen in advance.
Chapters (2)