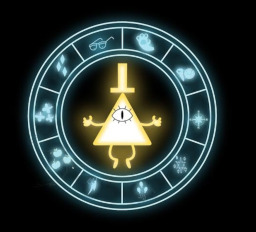 My name is Hailstorm, and I've made a terrible mistake, one that I don't think I'll ever be able to apologize enough for till I've fixed it. Fixing this problem is the only solution I have to redeem myself, if I ever want to look in a mirror again or ever want to sleep. I just have to say...I'm sorry.

I never meant for this to happen. I just wanted it to stop, I just wanted those dreams to end. But when I found out the real purpose, of his goal I brought him here. And for that I can't apologize enough. So I'm going to redeem myself, even if it costs me my last breath.
---
In a alternate universe where Hailstorm's curse forces him to peer into the world of Gravity Falls the human sees things- sees symbols that bother him incessantly. Unable to stand the torment his mind is taking the young adult writes said symbols on the wall, summoning a being of great power, with a desire for even greater chaos. In a strange twist of fate Hailstorm realizes his mistake and forms a deal to spare his world of the turmoil he has brought, but instead sends himself and the being known as Bill Cipher to the world of Equestria.
Now Bill Cipher is free in a different world, but must rest temporarily while he gathers the necessary ingredients to bring Equestria into ruin. It is now up to Hailstorm, and another lord of chaos to solve this problem. The only question is will they really be able to outsmart the all knowing triangle, or will they find some way to defeat this being together, with the elements of harmony and one daring pegasus?
Only time will tell.
---
Additional Tags: Dark, Mystery, Possible Romance, Drama, Psychological.
Additional Characters: Starlight Glimmer, Princess Luna, Screwball etc.
Chapters (18)