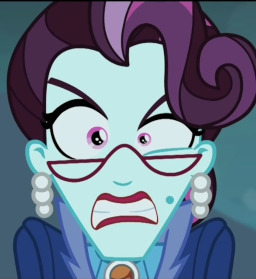 Principal Cinch managed to leave Canterlot High with her dignity largely intact. Of course, that leaves the question of where she went afterwards. While the two schools celebrated the continuing existence of the universe, Cinch went off to sulk.
It just so happens that one member of the Canterlot faculty knows precisely how she sulks. And in his experience, he plays an essential part in the process. He may have shirked that duty for quite some time now, but tonight, he'll take up the mantle once again, whether Cinch likes it or not.
An entry in the F*CK THIS PROMPT! 9. Prompt: A major villain is a completely sympathetic character.
Chapters (1)