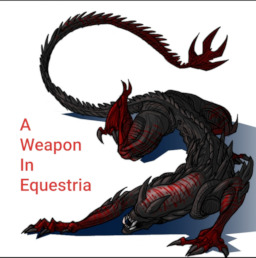 Reboot is out:A Monster In Equestria
Hello there so i guess you want me to tell you my story. Well it all started at a place called comic con i was dressed as my oc called Xeno-Blacklight-2039. Basically a human that was experimented on and turned into a monster of war (basically a living weapon) anyway I only had one thing missing from my costume and that was my oc's journal (basically my oc's autobiography/sketch book). So after looking around comic con for a bit I saw a huge flash of light and I saw a booth with the guy from resident evil. After talking to him for a bit I bought the exact same journal my oc was supposed to have then got sent to equestria not like the show but instead a futureistic (spiderman 2099) type of equestria. Now I work with the mane 6 and track down genetic Monsters and others like me and contain and try to cure them this is my story.
(displaced story)
Authors note: this is the story of my oc and it's something I've been working on since before I made a profile on here.
WARNING: There will be Gore in this story and some disturbing things READER'S DISCRETION ADVISED.
I don't own anything from mlp or prototype so please don't copyright me
Chapters (3)