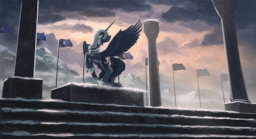 One timeline after another, Twilight and Spike are thrown into a world of Starlight's morbid machination. Another tragic end to Equestria, another circumstance of failure.
The frigid wind does little to ease Twilight's thoughts as a simple question plagues her mind:
"What happened here?"
---
Takes place during the Season 5 finale.
Proofread and edited by Dreams of Ponies.
Third place in the Nightmare Moon 2017 Summer Contest.
Featured 8/6/17 - 8/8/17.
Chapters (1)