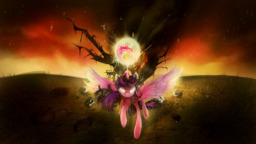 Source
They're gone... and they're never coming back.
It was a spontaneous decision, one that I regret every waking moment. At the time, when I had to choose between my friends and all the alicorn magic in Equestria, I didn't answer the question fast enough.
They're dead now, and the worst part? I won.
---
Pre-read by randome284.
Edited by Dreams of Ponies.
Proofread by Nightmare Darkness and additional post-edits by AAIQU.
Cover art by dream--chan on Deviantart.
Now with an audio reading!
Side story by Dreams of Ponies.
Featured 7/15/17 - 7/18/17. Thanks guys!
Chapters (1)