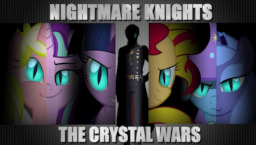 "Raise the Heavens!" - The Nightmare Knights' rallying cry.
Heroes are not born. They are made. And the Crystal War was a forge of heroes, hardened ponies who have stared into the abyss and emerged stronger. But six unicorns went further than any other and brought the abyss back with them. They were the same six who defeated the Night Queen herself, the six who bore Nightmare Moon's dark curse into battle against Discord, the six who quietly subverted Queen Chrysalis into becoming Equestria's secret pawn, the six most feared by both Equestria's enemies and her own citizens. This is the unsung tale of six unicorns, Twilight Sparkle N1, Starlight Glimmer N2, Sunset Shimmer N3, Trixie Lulamoon N4, Luna Eclipse N5 and Sunshine Smiles N6, and their nightmare-bonded commander, [OFFICER NAME REDACTED] N7. Together they lead Equestria's last hope, the fearsome legion of nightmare-bonded humans and their loyal nightmares, the [REGIMENT DESIGNATION REDACTED PENDING CORRECTIONS FROM THE VICEROY OF HUMAN AFFAIRS].
---
As always, proudly brought to you by our hardworking dream team, Not A Hat and Brad The Brony.
---
S5 Finale spoilers herein.
Story premise in a nutshell: In a world without the sonic rainboom, the sirens succeed in amassing an army of brainwashed humans to invade Equestria. Their invasion led them straight into the hooves of Sombra and his army of mind-controlled ponies. The clash ended with the Sirens defeated and Sombra acquiring a new source of mind-controlled soldiers - Earth. The fielding of Sombra's highly-versatile mind-controlled human minions in battle further pressured Equestria into a corner. With no end to the war in sight, Equestria resorted to desperate measures. Once prisoners of Equestria, Nightmare-infected ponies and humans are finally allowed to fight to earn their freedom. This is the story of the first six Nightmare ponies, their human commander and their part in the Crystal War.

This is a Crystal War story featuring squad-based heroics, camaraderie-in-arms and a touch of wartime field survival. Originally conceived as a thought exercise in explaining away the absence of all the other villains in the the Crystal War continuity.
Chapters (5)