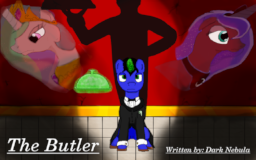 *Despite the cover art this is not a human turned into a pony story.*
On his way to a meeting in the next town over, Lee James Harrison almost gets thrown off a snowy mid December road by a speeding pick up truck. After he was able to successfully evade said truck, he noticed something rather peculiar out of the corner of his eye right before he slammed into it and drove into a nearby ditch.
Waking up in a bed in a strange room, Lee Harrison finds himself torn from his family life and placed into a new life as a butler, working for a ruler of a species he's never seen before.
Cover art drawn by myself, digitized by RandomReader-001
Beginning Chapters and so on edited by: Bruceman360
*Character tags will be added as the story progresses*
Chapters (11)