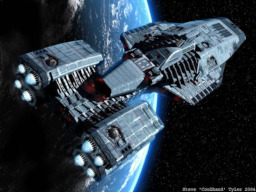 Twelve thousand years ago, humanity was driven into a war with an unknown enemy. Fire rained from the heavens and the sky turned dark as the sun dimmed. Acid poured from the clouds and a plague was unleashed upon mankind: A virus that caused men to turn on one another. A disease that forced man to fall to his knees and beg for mercy. A pathogen that ravaged man's civilization.
And when humanity lost all chances of reconciliation, all hope of keeping their loved ones safe, they pulled the plug, three hundred souls left Earth while sacrificing their only home to the angel of the enemy.
In the twelve millennia since the Great War, all traces of humanity have been wiped from the surface of the Earth. In man's rightful place now are a multitude of sapient species. For twelve thousand years, these animals have lived in peace and harmony, man reduced to nothing more than but a myth, a folk tale, a legend.
But word has spread across the countryside. Word of forgotten beasts that still walk the western wastelands. Creatures able to bend the world to their will without the help of magic. Creatures said to be older than time itself.
Teen for language, and dark moments. Character tags will be added as the story progresses
Chapters (26)