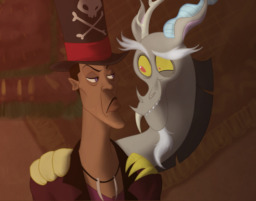 One's a master of chaos, the other's a master of voodoo.
When Discord, the embodiment of disharmony and chaos breaks free from his stone prison. He finds out things haven't gone according to his plan.
With his chaotic powers near useless, he comes up with a plan that will help him achieve his goals. Bring some help in.
It pays to have friends on the other side...
Crossover with Disney's 'The Princess and the Frog'
---
Inspired by this blog post from the awesome tumblr 'Discorderly Conduct', go check it out!
---
Thanks to my pre-readers, 'Berry Punch' and 'Draconian Soul'. And thank you to my editor, 'Vexy'. Go check their stuff out!
Chapters (3)