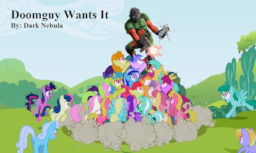 In search for a replacement for his pet Daisy (his rabbit). Doomguy finds himself in Equestria right after Twilight enchanted Smarty Pants with the Want it Need it spell. Now what could possibly go wrong with a Blood Thirsty marine who just defeated the minions of Hell more than once?
You may experience some naughty words!
don't worry the ponies don't swear.
Chapters (1)